PoolMarket - Swimming Pool, Spa & Hot Tub Supplies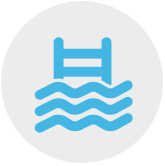 At PoolMarket, we stock a large selection of Swimming Pool Supplies & Chemicals, Spa and Hot Tub Chemicals from Chlorine Tablets, Bromine Granules to Algaecides and Cleaning Chemicals. Swimming Pool Equipment includes Automatic Pool Cleaners, Sand Filters, Pumps, Swim Jets and Pool Heaters.
Help to Enhance your swimming experience with Poolmarkets Hot Tub & Spa Accessories section which includes Spa Fragrances and Swimming Pool Toys. Products are being added daily so keep checking back for exciting new products and offers. Poolmarket are specialists in the provision of Swimming Pools (both indoor and outdoors), Hot Tubs and In-ground Spas, Saunas (both indoor and outdoors), Steam Rooms, Laconium's and Salt Rooms.